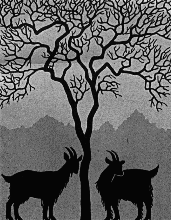 Black Locust Farm
Yvonne & Lance Taylor
P.O. Box 378
Washington, Maine
04574
+1 207 845 2722

Pictures of bucks for sale in 2014.
Pictures from 2013 and older pictures.
Breeding buck pedigrees (PDF, 3 megabytes)
Goof of the decade--51 kids born January and February 2000
We discovered the cashmere goat while travelling in Kashmir in the Himalayas. The luxurious Kashmir shawls, often known as ring shawls because they are so soft you can pull an entire shawl through a ring, are keeping the Kashmiris, both men and women, warm during their cold winters and are often passed on as heirlooms within the family. Cashmere is known as the fiber of kings-it is the softest of the soft fibers and is said to be eight times as warm as sheep's wool.
The Goat
Cashmere goats have traditionally been raised in the Middle East and Asia, but around 1970 Australians discovered that some goats out back had a soft undercoat that was consistent with cashmere. Import to the USA started in the late 80's. Around the same time ranchers in the southern USA discovered that some Spanish meat goats had that same soft undercoat. We got our foundation does in 1989, Rita from Texas and Lady from Australia.
Currently the Cashmere Goat Association is working on establishing the North American Cashmere Goat as a breed. While any goat can grow a soft undercoat, we have bred our cashmere goats to produce a significant amount of cashmere with a long fiber and a fine diameter.
Cashmere Down
The cashmere down is the undercoat that goats (so disposed) produce from midsummer to the winter solstice. In Maine it is shed between February and April, and you can either shear them in February or gradually comb the down out. It is covered by guard hair, which can be either long or short. At Black Locust Farm we breed for long guard hair that protects the cashmere from the elements, branches and burrs, and also gives the goat an elegant look, making it a pleasure to watch the animal out in the fields. Each goat produces 3 to 8 ounces of cashmere annually, and a lady's sweater would take around 10 ounces.
Land Clearing and Weed Control
While incidentally producing cashmere, our goats are keeping the weeds out of the pasture for our horses (and get along very well with them), thereby increasing the number of animals our pasture can support. They have free access to the woods surrounding our pasture area, and they are gradually clearing the trees at the edge to enlarge it. While we had our mature bucks, they were helping a neighbor clear land for vegetable farming.
Philosophy at Black Locust Farm
We believe in sustainable agriculture and in allowing our animals as much freedom as is practically possible. Our does and wethers range free all year. While the bucks unfortunately have to be confined during the breeding season, this allows us to plan the breeding to produce goats with the best possible cashmere.
Pictures
A wheelbarrow full of kids (1570805 bytes).


Aegisthus, buck, winter 96-97 (348440 bytes).


Zoroaster, buck, winter 96-97 (359058 bytes).


Hippomenes, buck, winter 96-97 (429343 bytes).


Lady, doe, and two kids, summer 92 (182316 bytes).


Pashmina, doe, summer 92 (101696 bytes).


Gwydion, buck, fall 93 (148476 bytes).


Rita, doe, winter 89-90 (125133 bytes).


Triton, buck, winter 91-92 (98180 bytes).


BLF Argos, winter 01-02 (211558 bytes).


BLF Pollux, winter 01-02 (212209 bytes).


RDT Rayvon, winter 01-02 (205271 bytes).


Bai and herd (218364 bytes).


Boris, son of Rayvon and Bridget (207845 bytes).


Glinda, Putswa's daugther (206107 bytes).


Black Locust Farm herd (217126 bytes).


Jackson, son of herdqueen Nancy and STC Pitso (217284 bytes).


Exploring the Explorer (194699 bytes).


Reflections # 1 (200882 bytes).


Reflections # 2 (209394 bytes).


Vindsval and Fatima (200442 bytes).


Hjort (1380952 bytes).


Hot Fudge (1721357 bytes).


Lars (1494233 bytes).


Leif (1396844 bytes).


Monarch (1773491 bytes).


Shiraz (1503961 bytes).


Will (1812091 bytes).


Zeus (1324876 bytes).


Will ready for hunting season

BLF Castano

BLF Duke

BLF Hippolytus

BLF Hjalmar

BLF Mauro

BLF Prince Edward

BLF Satchmo

BLF Shiraz

BSF Homer 1

BSF Homer 2

Gingerman in alfalfa

KTD Chris
---
Black Locust Farm / yvonne@blacklocust.com / yvonne.taylor@mygait.com Web page created by Ian Lance Taylor